June 14, 1963
Cowboys Set New School Record In Mile Relay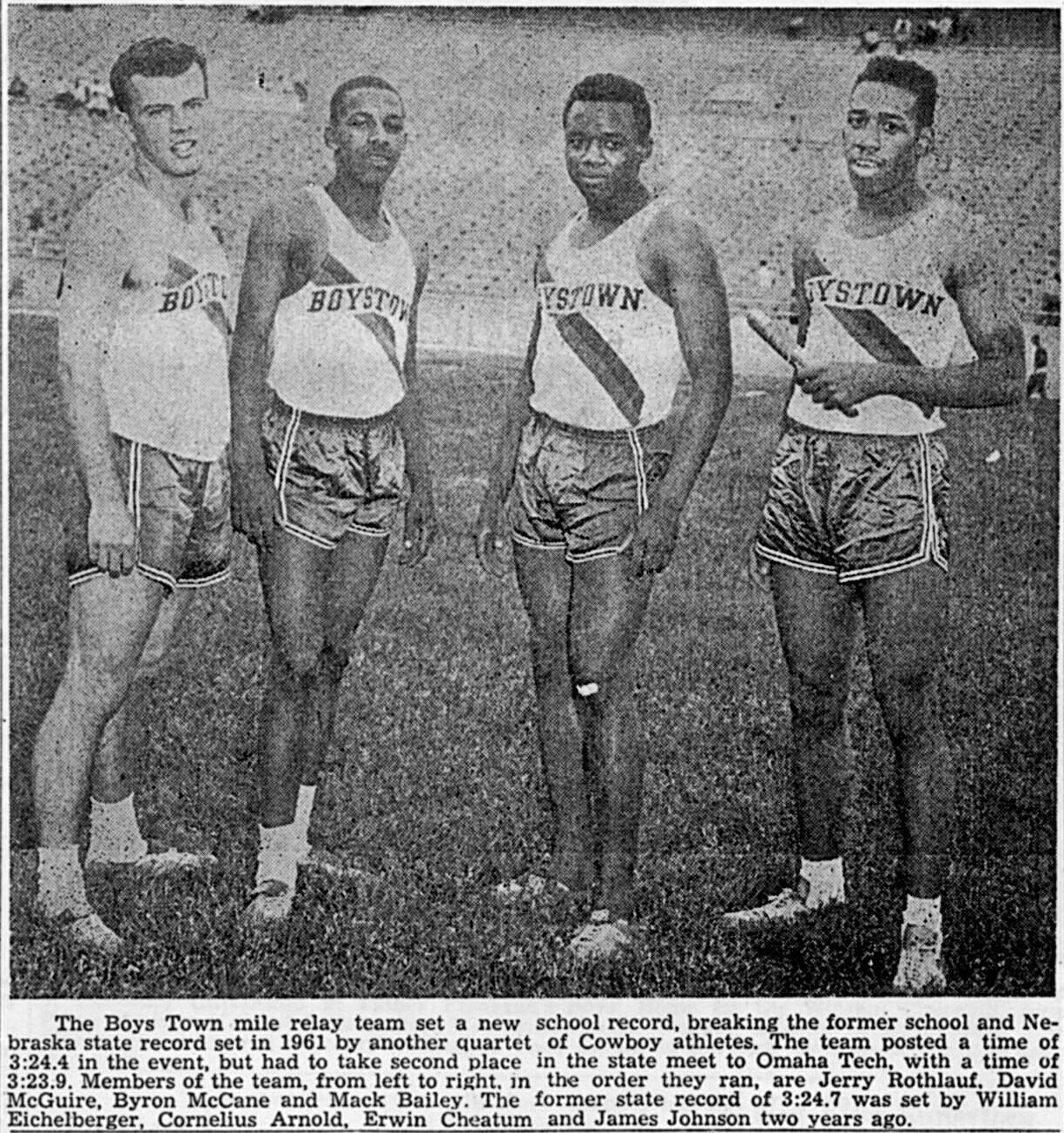 Boys Town trackmen placed fourth in a field of eight teams in the district meet held last month at Boys Town.
The Cowboy athletes had 39 points placing behind Omaha Westside with 45; Omaha Benson, with 43, and Omaha Central with 42 points.
Eight individual competitors and the mile relay team qualified for the state meet.
Winning gold medals at the district meet were Byron McCane in the 440-yd. run, with a time of :53, and the mile relay team, composed of Jerry Rothlauf, David McGuire, Byron McCane and Mack Bailey, with a time of 3:30.6.
(Note: Jerry Rothlauf is now Jerry Swanson and lives in Alabama. McGuire, McCane and Bailey have all passed away.)
Bailey was second in the 880-yd. run, McCane placed second in the broad jump, and David McGuire was fourth in this event; George Buckler placed second in the discus and Harold Meckna fourth, Dennis Tunks was third in the high jump, and Buckler was third in the shot put.
The following week, at the state meet held at the University of Nebraska at Lincoln, Byron McCane won the gold medal in the Class A broad jump, with a distance of 22 feet, four and three-fourths inches.
The Cowboy mile Relay team of Rothlauf, McGuire, McCane and Bailey ran the event in the sparkling time of 3:24.4, breaking the state record of 3:24.7 set in 1961 by another Boys Town quartet composed of William Eichelberger, Cornelius Arnold, Erwin Cheatum and Jim Johnson.
The record-breaking time, however, was good for only second place in the event, which was taken by Omaha Tech with a time of 3:23.9.
Boys Town placed sixth in the Class A standings, and also was 6th in the Grand Championship standings, based on the best records, regardless of class.
__________________________

Win Five Superiors in District Contest
Boys Town musicians took five superior ratings in the district music contest held recently at Omaha Westside high school.
Two individuals won superiors, and three ensembles won the high rating.
Neil Olsen won a supeior with a drum solo, and Eugene Dicks won a superior with a clarinet solo.
Other superior ratings were won by a clarinet quartet composed of Guy Harrison, Eugene Dicks, Robert Durrett and Bob Aldenhoff; a percussion ensemble, composed of Neil Olsen, Jerry Rothlauf, Anthony Sykes, Tom Schaeffer, and Chris Urszan; and a woodwind quintet, composed of Eugene Dicks, Nathan Crumby, Charles Beckius, Don Strieve and Robert Rodriguez.
All the musicians are members of the Boys Town high school concert band, directed by Mr. Ira George.








March 12, 1965
Snow Storm Provides Sport Opportunities
A February storm which dumped 10 inches of snow on the ground in a 24-hour period brought outdoor winter sports to full bloom among Boys Town citizens.
Coming several days after an earlier storm of sleet and freezing rain which covered streets and walks and coupled with a brisk wind which whipped the snow into drifts, the storm caused the cancellation of classes in the Boys Town schools for one day.
As the storm subsided, it was a signal to bring out sleds, toboggans, and skis and sundry other devises for sliding out of storage, and the young citizens of the Home had a fine time sliding down the slopes.
Freezing temperatures also put skating rinks into top condition, although it was necessary for skaters to shovel off the blanket of snow before they were able to use the rinks.
The snowfall, heaviest in this area in many years, also provided the young architects with plenty of material for building snowmen, forts and other structures out of the white stuff.
Boys living in Gregory Hall had the most ambitious venture, constructing a snow tower which stood nearly 30 feet.
Not only was it fun to build, but it was profitable as well, for the Boys Town tower was judged as the best in a contest sponsored by an Omaha radio station, and was awarded first prize.
It carried an award of $129.00 from the radio station.
___________________
Alumni Write From Far-Flung Points
Donald Black, a 1957 graduate, writes that he is employed as assistant manager of the Beverly Theater in Beverly Hills, Calif.
Don, who came to Boys Town from Phoenix, Ariz., is now residing in Hollywood.
From Ed Coyne, a 1954 graduate who came to Boys Town from Pittsburgh, Pa., comes word that his living at North Braddock, Pa., where he is employed as a mechanic for Alcoa's Executive fleet of air craft.
Ed has been married for the past six years, and has one son and one daughter. He plans to attend the national convention of the Boys Town Alumni Association with his family if he can make the proper vacation arrangements.
Terry Szymoniak, a 1964 graduate of the Boys Town high school from Rogers City, Mich., now is attending Ferris State College in his home town.
Another 1964 graduate, Harry Carnes, is in the U.S. Army at Fort Knox, KY. Upon completion of his training at Fort Knox, Harry expects to be assigned to overseas duty in Germany.
_________________________
Class Officers - 1965



February 10, 1967
Bollinger Named B.T. Mayor, Succeeding Allen
Clarence Bollinger, 18 a senior in the Boys Town high school, has been elected 62nd Mayor of Boys Town in the semi-annual elections held recently.
Clarence, who came to Boys Town from Lincoln, Nebr., in February, 1961, defeated the incumbent, Ray Allen, Peoria, Ill., and two other candidates, Reginald Walton, St. Louis, Mo., and Charles Hurd, Montgomery, Ala.
Mayor Bollinger is president of the senior class, and has won varsity letters in baseball, basketball and football.
In addition to his post as Mayor, Clarence will continue to serve both as a councilman in the Boys Town self-government program. Councilman Hurd also will serve as a cottage commissioner.
As his city clerk, Mayor Bollinger named David Getz, Barberton O., who is also a cottage commissioner.
Other commissioners, named prior to the mayoralty elections, are Robert Bell and Levi Webster, Omaha, Nebr.; Joaquin Monjarez, Lincoln, Nebr.; Jack Rice, Fort Dodge, Iowa; Ron Carle, Keokuk, Iowa; Dans Shireman, Dubuque, Iowa.
William Kyles, Kansas City, Mo.; Bernard Meyer, Marceline, Mo.; Maurice Klein, Kansas City, Kans.; Dan Winans, Fargo, N.D.; Tom Otto, Oklahoma City, Okla.; Dennis Thompson, Peoria, Ill.; James Walton, Chicago, Ill.
Jerry Shawanessee, Harbor Springs, Mich,; Phil Lemmo, Conneaut, O,; Paul Lambric, Canton, O.; Ray Kinney, Lorain, O.; Robert Wincowski, Toledo, O.
Nate Murphy, Fresno, Calif.; William Chapman, St. Petersburg, Fla.; Larry Creighton, Dallas, Texas, and Eric Branham, Washington, D.C.
______________________
B.T. Overcomes 18-Point Deficit to Beat Bellevue
Coach George Pfeifer's Cowboys overcame an 18-point deficit in the final quarter to post a 58-57 victory over Bellevue.
The Cowboys led briefly on a free throw by Ray Allen, and then the Chieftains started pulling away, and at the end of the first eight minutes they were ahead 18-7. They increased their lead to 36-23 at half-time, and going into the final frame the Chieftains had what appeared to be as a safe lead of 18 points with the score 51-33.
Then the Cowboys clamped down with their press, and the Chieftains, who had all the best of it in the first 24 minutes were completely at a disadvantage.
Jon Ray and Nate McKinney started off with buckets, and Gorham scored from the free throw line for Bellevue. Then Ron Stepek had a bucket and a free throw and Ray Allen a goal before McGuire scored for the Chieftains.
McKinney and Ray each added a field goal to narrow the margin to 46-53, and then Allen scored two field goals and three free throws to tie the game.
Carpenter put the Chieftains ahead again with a field goal, and Allen came back with two more throws to knot the score again, with 1:31 left. With 27 seconds left in the game, McKinney scored from the field and added a free throw to give the Cowboys a margin of 58-55.
Garvey scored a bucket for the Chieftains, but Allen scored another free throw to give final victory to the Cowboys, 59-57.
Allen scored 25 points, 12 of them in the final quarter, for the best output for a Cowboy this season, while McKinney and Ray added 14 and 10, respectively.