Boys Town Commemorative Coins - Buy Them Now!
Sale Ends at Midnight December 28th !
Don't Delay! Purchase Your Boys Town Commemorative Coin Set TODAY and Own a Piece of History!
Sales End December 28, 2017 at midnight. Any Remaining Coins Will be Melted Down by the US Mint. Get Yours Now! Click here to purchase.
Boys Town founder Father Edward Flanagan had a remarkable talent for coining phrases that helped people understand why the mission of caring for troubled children was so important.
"When you help a child today, you write the history of tomorrow."
"The work will continue, you see, whether I am there or not, because it is God's work, not mine. "
Now, in celebration of Boys Town's 100th anniversary as a national leader in child and family services, these inspiring messages, along with memorable Boys Town images, come to life in a unique set of three beautiful commemorative coins from the United States Mint.
About the Coins
Each piece — a $5 gold coin, a silver dollar and a clad half dollar — features symbols of Boys Town's historic past and present-day work, and is striking in its design, detail and craftsmanship. Several features make this three-coin set a highly unique collectible:
For the first time, the Mint requested that designs contain a common thread between the Obverse and Reverse sides to share a theme and tell a story.

A different artist designed each coin, creating the images and selecting words for both the obverse and reverse sides.

Each coin contains a phrase that is significant to the history of Boys Town. On the silver dollar and clad half dollar, the phrase is started on the obverse and continued on the reverse.

The use of the Boys Town Pylon provides a reference to the location of Boys Town's home campus, which has been designated as a National Historic Landmark.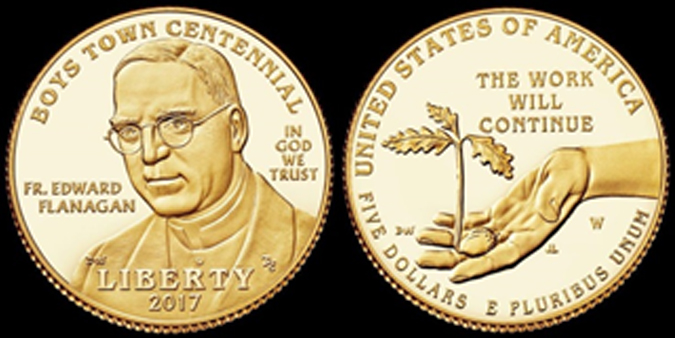 $5 Gold Coin
OBVERSE: Features a portrait of Father Flanagan. Inscriptions include "BOYS TOWN CENTENNIAL," "IN GOD WE TRUST," "FR. EDWARD FLANAGAN," "LIBERTY" and "2017."
REVERSE: Features an outstretched hand holding a young oak tree growing from an acorn. As stated in the idiom, "Mighty oaks from little acorns grow," this design represents the potential of each child helped by Boys Town to grow into a productive, complete adult. Inscriptions include "UNITED STATES OF AMERICA," "THE WORK WILL CONTINUE," "FIVE DOLLARS" and "E PLURIBUS UNUM."
Silver Dollar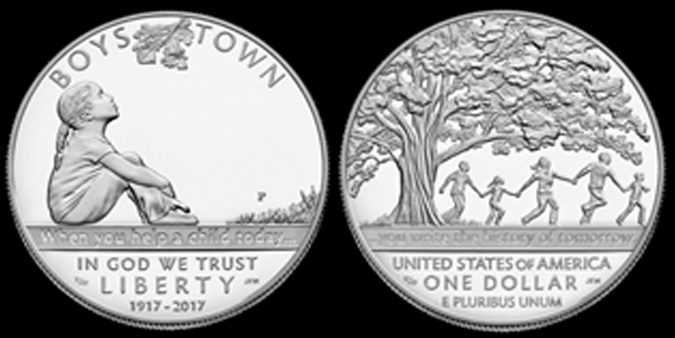 OBVERSE: Features a young girl sitting alone and gazing upward into the branches of an oak tree, looking for help. The empty space around the girl is deliberate and meant to show the child's sense of loneliness, isolation and helplessness. Inscriptions include "BOYS TOWN," "When you help a child today...," "IN GOD WE TRUST," "LIBERTY" and "1917-2017."
REVERSE: Features an oak tree offering shelter and a sense of belonging to the family holding hands below it, which includes the girl from the obverse. Inscriptions include "…you write the history of tomorrow," "UNITED STATES OF AMERICA," "ONE DOLLAR" and "E PLURIBUS UNUM."
Clad Half Dollar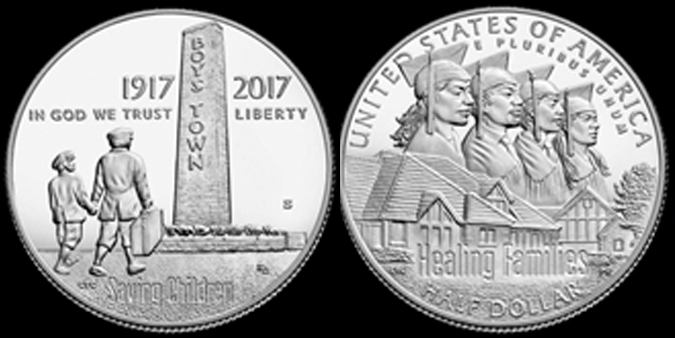 OBVERSE
: Features an older brother holding the hand of his younger brother in 1917. They walk toward Father Flanagan's Boys' Home and the 1940s Pylon representing what would become Boys Town. Inscriptions include "BOYS TOWN," "1917," "2017," "IN GOD WE TRUST," "LIBERTY" and "Saving Children."
REVERSE: Features a present-day Boys Town neighborhood of homes where children are schooled and nurtured by caring families. Out of these homes come young adults who graduate from high school and the Boys Town program. Inscriptions include "UNITED STATES OF AMERICA," "E PLURIBUS UNUM," "Healing Families" and "HALF DOLLAR."
About Boys Town
The story of Boys Town is an adventure that spans ten decades of modern American history. It's the story of a living, breathing organism, born through a mixture of faith and determination, nurtured to maturity through equal parts of hope and confidence, and thriving today because a simple dream of caring for children with love, respect and dignity has been embraced and carried on by millions.
Boys Town, the legacy of Father Flanagan, is today one of the largest nonprofit child care agencies in the country, providing compassionate treatment for the behavioral, emotional and physical problems of children and families. Each year, Boys Town services touch the lives of over two million people nationwide. The Boys Town National Hotline® has handled more than nine million calls since its inception, and Boys Town National Research Hospital® is internationally known for its treatment and research of communication disorders in children.
Father Flanagan's simple dream to make the world a better place for children thrives today because people still believe that every child deserves to be valued and loved, and to live a healthy, positive life.
Purchase Your Boys Town Commemorative Coin Set TODAY!
To buy your coins, simply visit the U.S. Mint's website at
catalog.usmint.gov
and follow the instructions. Boys Town is not selling the coins but surcharges from sales are authorized to be paid to Boys Town to carry out its work of caring for and assisting children and families in underserved communities across America.
The coins can be purchased individually or as a complete set. We invite you to add these one-of-a-kind treasures to your collection or to make them a family keepsake that can be handed down to your children and grandchildren.
Hurry! There is a limited sales period for these coins!
Boys Town Commemorative Coins will be on sale from the United States Mint only through December 28, 2017. After that date, unsold coins will be melted down so precious metals can be reclaimed and reused by the Mint.
Thank you for your interest and generous support of Boys Town's mission to change the way America cares for children, families and communities!