Father Valentine "Val" J. Peter, JCD, STD
Fourth Successor to Servant of God, Father Flanagan | 1985 - 2005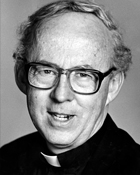 Father Valentine J. Peter expanded Father Flanagan's dream of changing the way America cares for her children and families. He led the growth of Boys Town from the Village of Boys Town, Nebraska, eventually to 19 sites in 14 states and Washington D.C.

An Omaha native, Father Peter was the fourth executive director of Boys Town. He assumed the post June 15, 1985. Under his direction, Boys Town grew to provide direct care, including hospital treatment, to more than 43,000 children each year. A million more were helped each year through outreach and training programs.

Father Peter is on the boards or committees of more than 20 national and local organizations. He has published numerous books and popular and scholarly articles. Father Peter holds doctorate degrees in both Canon Law and Theology.

His service to children as a youth advocate, educator, and friend has spanned more than four decades. Father Peter retired as Executive Director of Boys Town on July 1, 2005. He served as Executive Director Emeritus and Senior Associate Pastor at the Immaculate Conception Dowd Memorial Chapel for a number of years before fully retiring and moving to New Cassel Retirement Home in Omaha. He continued his mission of working with Boys Town alumni until his passing.
Father Peter passed away on June 30, 2020 and is buried in his family plot in Omaha, Nebraska.